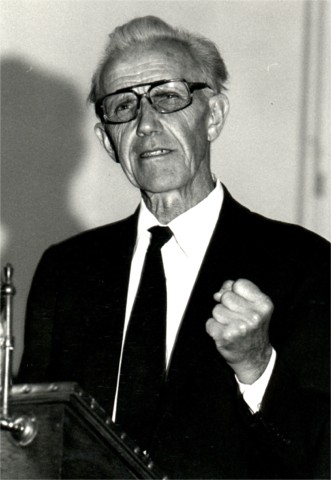 "This photo of Orland Wolfram shows the force and intensity of his life. . . There is strength and intensity that I thought . . . fits in with the articles [of his being] shared on the Internet." --Dr. Robert B. Dallenbach
Orland Albert Wolfram was born in 1912, the first of three sons, to Pillar of Fire missionaries Rev. Albert and Rev. Gertrude Wolfram. Early in life he exercised saving faith for salvation in Jesus Christ and shortly accepted a call into full-time Christian service.
A man who has been called brilliant by many who had the privilege of knowing him, Brother Orland early displayed and developed many talents. He had a gift for music which he nurtured through innumerable hours of practice and study. He played piano and organ like an angel. Both his example and his teaching have inspired generations of instrumentalists. Later in life as a missionary to the poorest of the poor in Guatemala, he carried an accordion with him and gave the gift of beautiful music to those for whom the purchase of a piano or organ for their humble congregations would be an impossible dream.